Logan County escapes potentially dangerous storms again

Send a link to a friend
[AUG. 4, 2003] No major damages were reported from storms that rolled through Logan County both Saturday and Sunday. ESDA Director Dan Fulscher said that we were lucky; the storms were potentially dangerous and could have caused more damage, but they dissipated when they got here. They did provide enough rain so that crews didnít have to water the demo derby track at the fair Sunday evening.
The National Weather Service was kept busy issuing alerts, watches and warning each day. The storms were created by an unseasonable high pressure sitting over the Great Lakes. As the day heats up and clouds form, the addition of cold air develops them into thunderstorms. More of the same is forecast for this afternoon, but the effect is dissipating, so the possible storms are not expected to be as severe, Patrick Bak from the National Weather Service said.
Saturday's midafternoon storm blew in out of the northwest with wind gusts at approximately 35-40 mph and a brief but torrential rain accumulating to 1.1 inch at Lincoln Rural firehouse and .51 inch at the National Weather Service office. Some three-fourths-inch hail was reported in Lincoln, Bak said.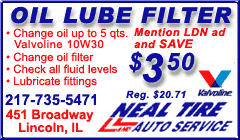 Sunday was a near repeat of Saturday, starting with a later afternoon thunderstorm that delivered like winds and rain. Starting around 7:30 more storms moved into the area. Spotters watched for funnel formation though none was confirmed.
The accumulated rain for Sunday was .6 inch at the National Weather Service, 1.1 inch again at the Lincoln Rural firehouse and .38 inch at Mount Pulaski.
Higher winds gusting to 65 mph were reported near the intersection of Interstate 155 and Route 136 near Emden in the later storm.