Katheryne Stoll, 20, daughter of Kenton and Marcia Stoll, took the crown in what had to be a difficult decision for the panel of judges. Katheryne, a 2000 Mount Pulaski High School graduate, is a senior at the University of Illinois at Champaign-Urbana. She is studying human nutrition and hopes to go on toward a master's degree in agriculture education.
Katheryne has been involved in Logan County Fair events since childhood, competing in various categories of the 4-H program. "Being part of this fair is like coming home," Katheryne stated prior to the competition.
"I was first runner-up in 2001 and wanted another chance at the crown," she said. Well, Katheryne's hard work and dedication paid off last night as she humbly became the 65th recipient of the Logan County tiara. She follows in the footsteps of her sister, Elizabeth, who wore the crown in 2000.
First runner-up is Laura Pollett, 19, of Lincoln. Laura is the daughter of Ron and Pam Pollett and a 2002 LCHS graduate. She is currently a sophomore at Northern Illinois University and is studying broadcasting and political science.
Laura stated that she was "not nervous -- just excited." Public speaking comes naturally to Laura, as was evident in her response to the judges' question, "Who is the most influential person in your life?" Laura talked about her relationship with her brother, Matt, and how he was a role model to her.
Second runner-up is Cara Cannon, 19, daughter of Charles and Kristine Cannon of Mount Pulaski. A 2002 grad of MPHS, Cara is currently studying biology education at Southern Illinois University at Edwardsville. She plans to obtain her master's degree in educational administration and eventually be a high school principal or administrator. Cara stated that the Logan County Fair is "a place where all the great things of our county come together."
Miss Congeniality, chosen by the candidates themselves, is Emily Wilkinson, 19, of Lincoln. Emily is the daughter of Bernard and Donna Wilkinson and a 2002 LCHS graduate. Emily states that she is not the "typical beauty queen type." She is currently attending Lakeland College on a softball scholarship and is studying special education. Emily works with residents of a facility for developmentally disabled adults. She states that her clientele "have taught me so much about life -- they have made me a better person."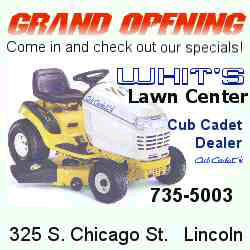 The four corners of Logan County were well represented, with candidates from Lincoln, Mount Pulaski, Chestnut, Elkhart, Beason, Atlanta and New Holland. Although the lineup looked like auditions for "Legally Blonde 3," each candidate brought to the stage a freshness that captivated the audience.
Alexandrea Davis of Lincoln, the only candidate who remains in high school, was one of three lovely brunettes in this sea of gold-haired beauties. Alex hopes to graduate early and join the Marine Corps. She would also like to study fashion design or photography at the Illinois Art Institute. Alex states that she has learned more about herself through this experience.
Amber Deiss and Brianna Sheldon also represented the city of Lincoln.
Amber Deiss, 17, received a soccer scholarship to play for Lincoln College. She has coached YMCA soccer teams and hopes to be a kindergarten teacher.
Brianna Sheldon, 18, of Lincoln, will attend Western Illinois University and study criminal justice. She dreams of someday being a United States marshal.
The big-city girls did not intimidate the small-town ladies. Breann Conrady from Elkhart, Ashley Dammerman from New Holland, Ashley Wurth of Beason and Sara Bicknell of Atlanta all mesmerized the crowd with their poise and charm.
Breann Conrady, 19, of Elkhart is a 2003 LCHS graduate and will attend Lincoln College in the fall. Breann will study psychology and hopes to become a child welfare social worker or child psychologist.
Ashley Dammerman, 18, the lone red-haired beauty, hails from the tiny village of New Holland. Ashley is a 2002 graduate of LCHS and is a sophomore nursing student at Illinois State University. Ashley will specialize in pediatric medicine.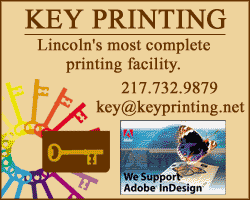 Ashley Wurth, 19, of Beason is also a 2002 LCHS grad and currently attends Heartland Community College School of Nursing in Bloomington. She is another candidate who has followed in the footsteps of her older sister, who was a 1999 Logan County Fair queen candidate.
Sara Bicknell, 19, of Atlanta, recently graduated from Olympia High School and will attend Illinois Wesleyan University at Bloomington in the fall. Sara will study both vocal music and political science. She aspires to writing political speeches and enjoys the limelight.
Amy Roher, the 2002 fair queen, passed along well wishes for all the participants. "I told the girls to be true to yourself always, and you will be loved for who you are," she said. This queen will go on to complete her studies at Western Illinois University. She is already working as an athletic trainer for the St. Louis Rams and will soon have her certification completed. Queen Amy, we wish you well.
Penny Kilhoffer, Logan County Fair pageant director for 10 years, is also passing her crown on to pursue her medical practice. With teary eyes, she accepted honors for her 17 years of service to the pageant. Deanne Mott and Amy Cherry will assume the director duties for 2004.
Penny says she will continue to stay involved. "The fair gets in your blood," she said. Thank you, Penny, for your continued dedication and commitment to excellence.
Early this morning, 2003 Logan County Fair Queen Katheryne Stoll assumed her royal duties. Katheryne will be pinning ribbons on livestock, judging contests and greeting the crowd of fair goers. And, as she states, this is "home."
The choice of so many gifted young women must have made it difficult for the judges to select one winner. These candidates were highly impressive and very genuine in their pursuit of education and lifelong dreams. Each candidate praised the pageant highly during interviews and regarded the experience as a highlight of her life. Each young woman, whether or not she walks away with a crown, will take with her great memories and a lifetime of friendships. These will be the jewels in her crown.
[Patricia Rankin]