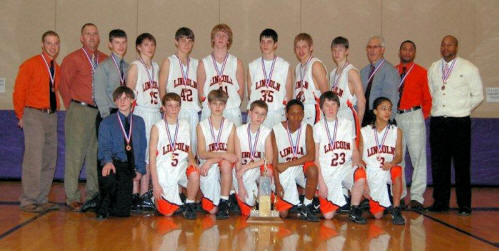 The Lincoln Junior High eighth-grade boys brought home the third-place 3A state basketball trophy Thursday night. LJHS defeated Litchfield 44-32 in the final game. 1996 was the last year an LJHS team went to the Final Four, the same year that most of these boys were born. A special congratulations to Coach Aeilts for being chosen by the Illinois Basketball Coaches Association as the "Coach of the Year" for District 18.
Back row: assistant coach Gleason, head coach Aeilts, manager Nick Goff, Bobby Dunovsky, Richard Coit, Josh Varbonceour, Max Cook, Austin Krusz, Wes White, assistant coach Willliams, assistant coach Lora and assistant coach Vernardo.
Front row: manager Conner Brown, Will Cook, Grant Cooper, Hank Freed, Andre Birks, Blake Chamberlain and Shawn Cannon.
Picture and information from DeAnn Cooper (Click on picture for larger image.)