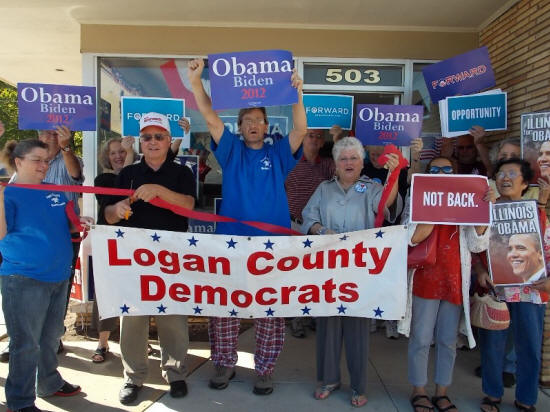 On Saturday morning, Logan County Democrats celebrated the grand opening of the Democratic election headquarters at 503 Woodlawn Road, Lincoln.
Cutting the ribbon was Steve Waterworth, candidate for 18th Congressional District representative. Waterworth, a retired farmer from Easton, feels the 18th District is not being served as well as it was with Ray LaHood and that he can do the job better.
To the right of Waterworth is Rebecca Drake, just returned from the national convention. Drake said they would be walking precincts every Saturday morning and manning phone banks on Tuesday and Thursday evenings, reminding people to vote or early vote, and offering rides to the polls if needed. "We want to get people energized to turn out to vote," she said.
Photo by Jan Youngquist (Click on photo for larger image.)