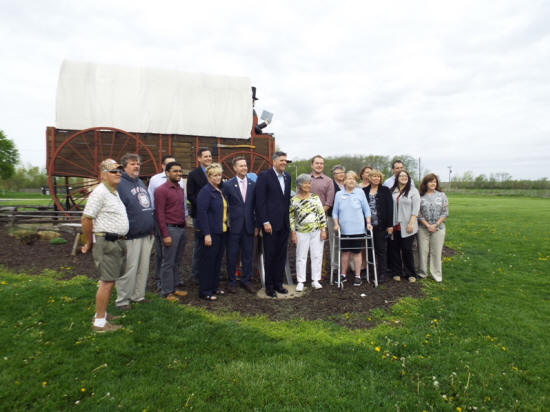 On Wednesday morning, United States Congressmen Darin LaHood and Rodney Davis along with State Representative Tim Butler made a couple of stops in Logan County on an Illinois Route 66 tour.

LaHood is a member of the Federal Natural Resources Committee. Davis represents the Illinois 13th District in Washington. The two are working together to get legislation passed designating Route 66 as a Historic National Trail as well as the commemoration of the 100th Anniversary of the commonly called "Mother Road" Butler is working on similar designations on the state level. The group stopped at the Railsplitter Covered Wagon in Lincoln, then moved on to the Palm Grill in Atlanta before ending their trip in McLean County.

At the wagon, city aldermen, representatives from the Logan County Tourism Bureau, Lincoln/Logan County Chamber of Commerce, Route 66 Scenic Byways, the new owner of the Best Western who also owns the property where the wagon stands - Dhiren Patel, and both current and future Mayors - Marty Neitzel and Seth Goodman were on hand.
Photo by Nila Smith (click on image for larger version)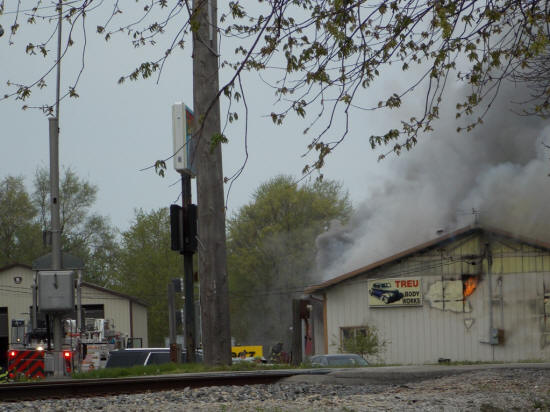 A mid-morning fire at Treu Body Works in Lincoln sent one person to the hospital. There was only one person inside the building when the fire erupted. That person was transported by Logan County Paramedics to Springfield to a burn unit. Steve Siltman of LCPA said that he could not comment on the severity of the injuries or the identity of the victim. Several fire departments were on the scene including city of Lincoln, Lincoln Rural Fire, and the Atlanta Fire Department.
On Wednesday evening, Lieutenant Brett Tripplett with the Lincoln Fire Department said that no official report had been filed on the fire yet. An investigation is underway.
LDN will bring further information concerning this fire as it becomes available.
Photos by Karen Hargis & Nila Smith