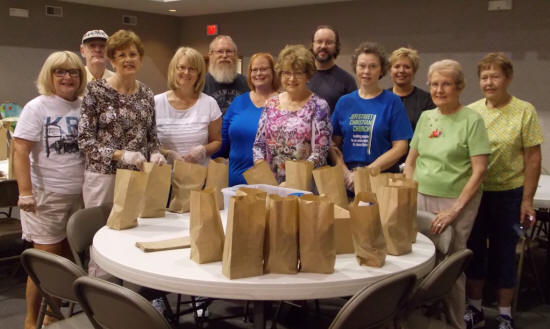 On Monday, members of the Jefferson Street Christian Church gathered together to prepare sack lunches for the first responder organizations within the community. The lunches featured a smoked brisket sandwich with meat from Peggy's Place in Lincoln. The lunches were also accompanied to local fire houses and law enforcement offices by large trays of tasty homemade sweets.
Photo by Karen Hargis (Click on image for larger version)
Monday evening, Mayor Seth Goodman and Aldermen Rick Hoefle, Jeff Hoinacki, Kathy Horn and Ron Keller awarded the September Home of the Month award to Steve DiPasquale. The home was nominated by Ward 4 Alderman Rick Hoefle. Joining DiPasquale and the alderman for a photo op were members of DiPasquale's family including his in-laws Dave and Barb Schroder, who owned the home before DiPasquale.
Photo by Nila Smith (Click on image for larger version)