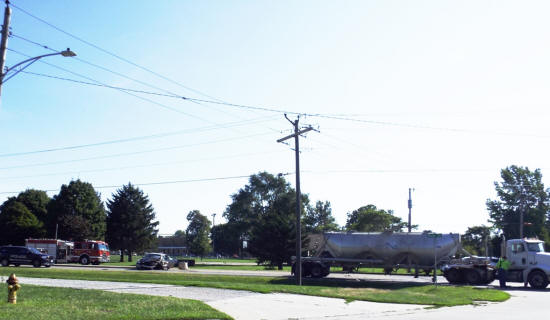 A semi-truck versus car accident on Limit Street in Lincoln on Tuesday morning sent one person to the hospital with unknown injuries. The crash occurred on Limit between Pulaski and Broadway Streets at around 8:30 a.m. The Lincoln fire and police departments, Lincoln Rural Fire, Logan County Paramedics and the Illinois State Police responded to the call. The car was heavily damaged and had to be towed away. The semi-tractor sustained damage and was also towed. The tanker trailer which contained powdered concrete was collected by the trucking company that sent a new truck to pull it away.

The accident occurred on a state highway, making the Illinois State Police the official reporting agency. No report has been received on the accident.

Photo Nila Smith (Click on image for larger version)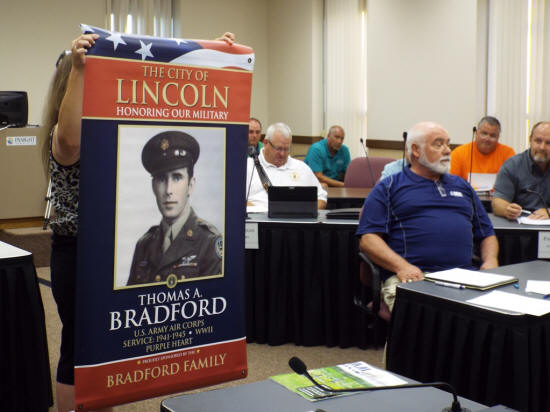 At this week's voting meeting of the Lincoln City Council, aldermen approved a request from the Lincoln Rotary Club to initiate a "Hometown Hero" banner project in the downtown area. The club plans to acknowledge active duty service men and women, veterans and deceased veterans. The individual banners will feature a photo of the person with their name and military branch and other pertinent information.

The request was heard by aldermen last week at the Committee of the Whole when it was presented to them by Rotary President Kirby Rodgers along with Rotary member Carrie Pethy.

The Rotary plans to start the project with banners around the downtown square and may seek to expand it into other parts of town depending on the need.

Photo Nila Smith (Click on image for larger version)