| | |
| --- | --- |
| Collins Roofing | Country Aire Restaurant |
| DPCM Insurance Agency | Lincoln IGA |
| Logan County Correctional Center | Midwest Dental |
| Moochelle's Kid Kare | Spirited Republic |
| Town & Country Bank | Werth & Associates |
Today we are featuring ten new pink shirt pictures. Thanks so much to Collins Roofing and Country Aire Restaurant in Atlanta, DPCM Insurance in Mount Pulaski, Lincoln IGA, Logan County Correctional Center, Midwest Dental, Moochelle's Kid Kare in Mount Pulaski, Spirited Republic, Town & Country Bank and Werth & Associates.

These photos represent a wide-sweeping area in Logan County, and while this month has been all about breast cancer, it is also a good time to caution folks on another very common and very treatable cancer - skin cancer. Skin cancer can also be wide-sweeping, presenting itself on many areas of the body. It also varies widely in how it looks. Just like breast cancer, early diagnosis is key to effective treatment. To help you identify how the disease could present on the skin, the American Cancer Society provides a number of photos on its website. If you have sores or rashes that don't want to go away, seeking a medical opinion is a good idea. Visit the skin cancer photo gallery here.
Photo by Karen Hargis, Roy Logan, Ashley Collins, Rebecca Grabowski and Colleen Roate
See: 2019 Paint the Paper Pink - Pink Shirts for Breast Cancer Support - Album
---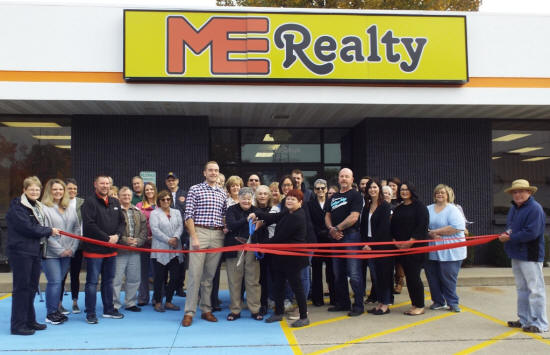 On Monday, a triple ribbon cut was held at 602 Keokuk, celebrating the relocation of ME Realty, HeadLines Salon and Serenity Now. The triple ribbon was snipped by Liz Hays representing the four owners of Headlines, Kay Anderson with Serenity Now and Carolyn McMath, former owner and special guest of ME Realty.
Photo by Nila Smith (Click on image to enlarge)