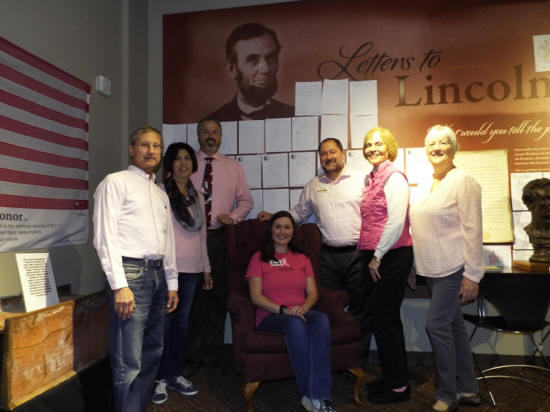 Today, we are featuring the volunteers and staff of the Lincoln Heritage Museum as our "Show us your pink" picture. The volunteers along with Director Tom McLaughlin, Assistant Director Anne Moseley, and Lincoln College President Dr. David Gerlach gathered together with our 16th president looking on to show us their pink. For those who haven't been to the Lincoln Heritage Museum, it is a must-see attraction in our community. The museum walks through the history of Abraham Lincoln's life in a unique and moving way. That Lincoln history is a very important part of our country on the whole and our community is lucky to have that history at our disposal.

Understanding history is important for a lot of reasons, and is even important to those who are at risk of developing breast cancer. While there is no singular cause for the disease, it is well established that there are genetic factors that can play a part, and that family history of the disease can be a clue for future generations. Fortunately, there is genetic testing that can be done to help a person determine his or her risk. Learn more about genetic testing in this week's special feature article, Understanding Genetic Testing for Cancer.
Photo by Nila Smith (Click on photo for larger version)

Our friends at Jim Xamis Ford and Level Four Wealth Management, all decked out in their pink
Photo by Roy Logan and provided by Level Four (Click on photo for larger version)
Show us YOUR pink!