At the Oasis Senior Center, two groups gathered for a chance to "Show us their pink." On the right, this group was headed out to Branson on a Senior trip but recognized it was important to show the community that they too support breast cancer awareness, so they gathered early for a picture in pink and sent it to LDN while they were on the road.

On the left, a second group gathered later in the day inside the Oasis Senior Center for another great photo. Statistically, breast cancer occurs more often in women over the age of 50, which is why it is very important to understand that regardless of where you are on your journey through life, it is important to remain diligent in taking care of yourself. For some it may be a little embarrassing to talk about your breasts, but remember your doctor understands your anatomy, and your friends understand your concerns.
Photos by Karen Hargis and the Branson Bunch (Click on photo for larger version)
Show us YOUR pink!
| | | | |
| --- | --- | --- | --- |
| | | | |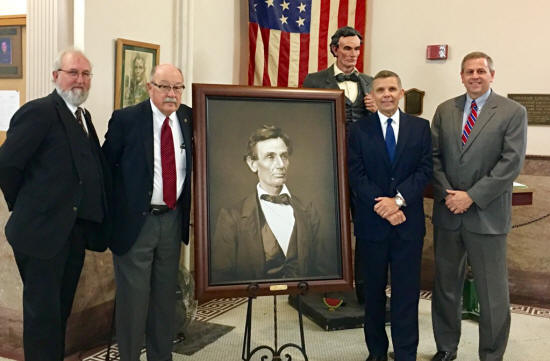 On Wednesday morning, Jonathan Wright, Logan County State's Attorney, met with representatives from the Illinois State Historical Society and Jerome Mirza Foundation in the Logan County Courthouse. The group gathered around a print of a 1860's portrait of Abraham Lincoln being donated by the Historical Society and Mirza Foundation to the Logan County Courthouse. Left to right are Illinois State Historical Society Executive Director William Furry, Bloomington attorney and Lincoln author Guy Fraker; Mirza Foundation Board Member, Justice Thomas Harris; and Wright.
Photo provided by Jonathan Wright (Click on photo for larger version)