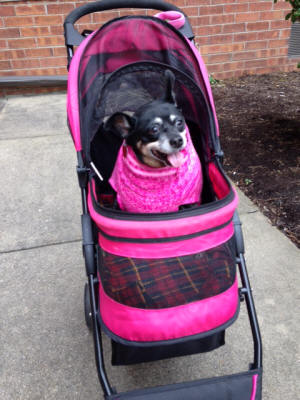 Our "Show us your pink" picture for today is a little out of the ordinary. This is Dottie Gillum, the beloved fur-baby of Bert and Obdulia Gillum, and she is all decked out in her pink coat and her pink trimmed stroller. Thanks to LDN reader Julie Barger for sending us this photo that serves as a perfect segway for today's special feature story on breast cancer.

We know that not all lumps are breast cancer, but did you know that not all breast cancer is a lump? Inflammatory Breast Cancer is a rare, but very serious condition, which starts as stage three cancer and spreads very quickly. The cancer was recently the topic of a national health show. The featured oncologist noted that this cancer is often overlooked by general practitioners. It shows up as a rash on the skin of the breast and is often first diagnosed as an allergy or an insect bite. The doctor on the show said that the patient should follow doctors orders for the treatment of the rash, BUT if there is no notable improvement within three days seek further medical attention.

Today's feature article comes from the American Cancer Society and will help you understand this rare type of breast cancer.
Photo by Julie Barger (Click on photo for larger version)
Show us YOUR pink!
| | | | |
| --- | --- | --- | --- |
| | | | |
Three little minions enjoy trick or treat at the Lincoln Park District Halloween Fun Fest on Thursday evening. The three were in line for "tattoo's." There were several other fun games and activities going on Thursday evening, and families poured into the recreational center's indoor tennis courts to enjoy a 'spooktacular' time.
Photo by Nila Smith (Click on photo for larger version)