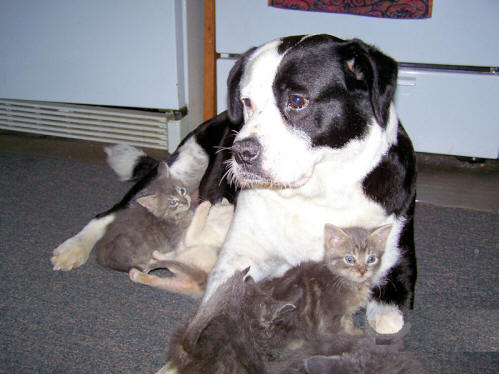 Chance, a Humane Society dog that has been adopted by the Struebing family, has a heart of gold. The dog is currently acting as a surrogate mother for six Humane Society kittens whose mother was killed. Chance has taken over nursing and parenting of these little waifs and keeps them spotless. In the past, Chance has mothered ferrets, a rabbit and even a baby squirrel. You can show your heart of gold by either donating or joining the Humane Society of Logan County at www.hslclincoln.org. Chance is doing all she can, Shouldn't you?
Picture by Jill Struebing

CLOSE UP: June 5th
Zonta, Catholic Charities, Megan Siddens, Tifanee Reeves, Natalie Schaller, Megan Opperman, Kristen Marten and Cumberland Presbyterian Women's Ministry all in Close Up
Zooming in on the people, places and things that make this community interesting!
sponsored by CHRIS COYNE, Agent -- State Farm Insurance
| | |
| --- | --- |
| | Abraham Lincoln Bicentennial |

Looking for a great holiday or graduation recipe?
Check out the hundreds of food ideas in GRAB YOUR FORK, and then share some of your own.
Sponsored by

And, don't forget this great coupon for IGA: