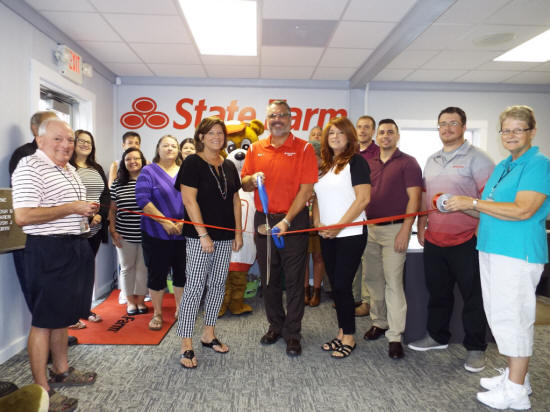 Lincoln State Farm Insurance Agent Chris Coyne holds the ribbon cutting scissors with his office manager/vice president Robyn Yarcho to the left and wife Tia to the right on Thursday morning. The ribbon cut was held inside the new Chris Coyne State Farm offices at 1308 Woodlawn Road in Lincoln. Coyne for the past several years has had an office in Heritage Plaza. This summer he had the opportunity to move to what was once known as the Long John Silver's building. The new offices are more visible from Woodlawn, offer private parking for customers, and the appropriate amount of office space for Coyne and his team to service Logan County customers with their insurance needs.

Photo by Nila Smith (Click on image for larger version)
On Thursday, September 13th, the Logan County Arts and Lincoln Art Institute will host the opening of the September exhibit with a reception from 5 p.m. to 8 p.m.


The September show will feature an amazing collection of photos printed from glass negatives that are more than a century old. The collection of photos taken by 1900's railroad photographer Howard C. Tibbitts includes scenes from across the country. Photo topics include Native Americans, the Yosemite Valley, Redwood forests, early missions, agriculture, railroads, and early American life. The collection belongs to Patrick Moore, who obtained the glass negatives, worked to digitize and restore all the photos and now will be offering prints in a large variety of sizes for show and for sale. This promises to be a very interesting show, and it is hoped that the community will come out on Thursday evening, see the works, and visit with Moore about his collection.

Photos provided by Mitch Douglas, Logan County Arts (Click on image for larger version)