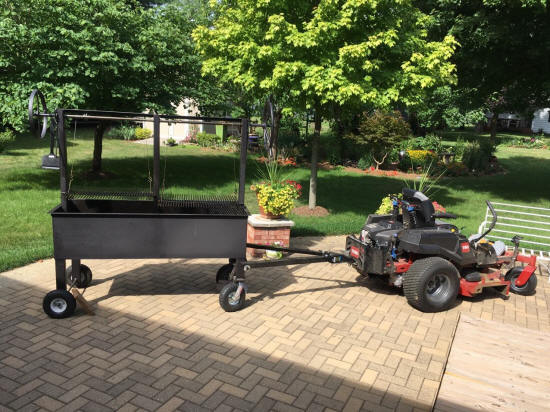 On Saturday night, this custom made 'Santa Maria' grill fabricated by Bill Blankenship will to be used by the United Methodist Church men to grill thinly sliced, perfectly seasoned sirloin at the Atlanta Fall Festival. The Tri-tip sandwiches, which are extremely popular to the west, will be served at the festival for the first time with great expectations that they will also become very popular locally. The UMC dinner is from 5 – 7 p.m. on Saturday in the Atlanta Community Park. A different meal is featured each night with family-friendly activities throughout the park from Friday evening to Sunday.

Photo provided by Bill Thomas (Click on image for larger version)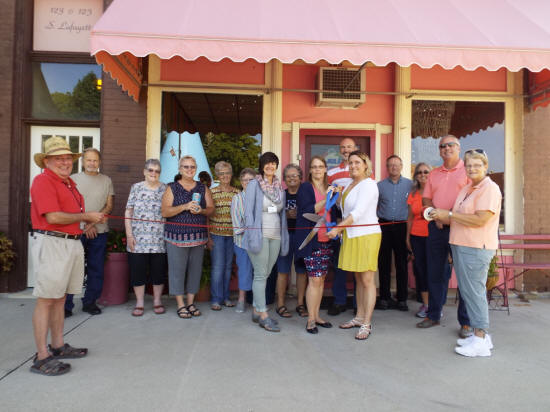 Jules Mason, owner of Jules Flower Shop in Mount Pulaski (in yellow) holds the scissors along with Mount Pulaski Business Association President Tricia Aylesworth at a ribbon cut on Wednesday morning. The occasion was the celebration of the one year anniversary of Jules Flower Shop. The shop did not get a ribbon cut when it opened last year, so the event Wednesday was an opportunity for the community to show support for the new business as well as celebrate Jules success in her first year.

Photo Nila Smith (Click on image for larger version)