Send a link to a friend
October 2013
---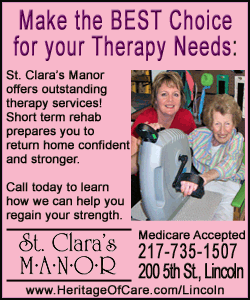 Wednesday, Oct. 9
Farmers' Market
SPONSOR: Farmers' Market
WHO: Public
DETAILS: Market open Wednesday and Saturday mornings, 8-noon, through October.
WHERE: Latham Park
WHEN: 8 am-noon
Little Listener Lapsit Story Time
SPONSOR: Lincoln Public Library Youth Services Department
WHO: Children ages 6 months through 2 years old
DETAILS: Tuesdays and Wednesdays through Nov. 6. Preregistration is needed for accurate planning. Call 732-5732.
WHERE: Library Annex
WHEN: 10 am
Book Buddies Story Time
SPONSOR: Lincoln Public Library Youth Services Department
WHO: Children ages 3 and 4; also age 5 if not enrolled in kindergarten
DETAILS: Tuesdays and Wednesdays through Nov. 6. Preregistration is needed for accurate planning. Call 732-5732.
WHERE: Library Annex
WHEN: 10 am
"Prayer in the Park"
WHO: Public
DETAILS: A group will gather at the bandstand in Latham Park to spend a short time in prayer for the physical and spiritual needs of Lincoln and Logan County. The focus will be on thanksgiving and the prayers that God has put on our hearts for all areas of the community. Join this short time of prayer, so that when He answers, we can reflect and see what He has done.
WHERE: Latham Park, at bandstand
WHEN: Noon
Breastfeeding support group
SPONSOR: Abraham Lincoln Memorial Hospital
WHO: New mothers
DETAILS: Weekly breastfeeding support group. Participants will weigh their babies and have an opportunity to share stories and ask questions of a certified lactation consultant. Bring your lunch.
http://www.almh.org/About-ALMH/News/NewsDetail.aspx?id=306
WHERE: Steinfort B at ALMH, 200 Stahlhut Drive
WHEN: Noon-1:30 pm
Diabetic self-management class
SPONSOR: Abraham Lincoln Memorial Hospital
WHO: Registered participants
DETAILS: (See article.)
WHERE: Baldridge Education Room at ALMH
WHEN: Sessions 2-4:15 pm and 6-8:15 pm
Lincoln Farmer's Market
SPONSOR: Lincoln Farmer's Market
WHO: Public
DETAILS: Market open Wednesdays 3-6 pm, Saturdays 7 am-noon, through Oct. 26
http://www.lincolnfarmersmarket.org/
WHERE: Scully Park, 316 S. Kickapoo
WHEN: 3-6 pm
Thursday, Oct. 10
Mount Pulaski Rotary lunch
SPONSOR: Mount Pulaski Rotary Club
WHO: Approved, dues-paying members
DETAILS: Weekly lunch
(More information)
WHERE: Buff's Restaurant on the Mount Pulaski square
WHEN: Noon-1 pm
Art and craft class
SPONSOR: Lincoln Public Library Youth Services Department
WHO: Youth ages 8-12
DETAILS: Classes on Thursdays through Nov. 7. Preregistration is required for accurate planning of materials. Register one week prior to each class.
WHERE: Library Annex
WHEN: 3:30-3:50 pm
LCHS fall play: "All I Really Need to Know I Learned in Kindergarten"
SPONSOR: Lincoln Community High School
WHO: Public
DETAILS: (See article.) (See latest article.)
WHERE: LCHS auditorium
WHEN: 7 pm
Friday, Oct. 11
Night golf scramble
SPONSOR: Lincoln & Logan County Development Partnership
WHO: By registration
DETAILS: (See article.) (See publicity.)
WHERE: North Greens Golf Course, Atlanta
WHEN: 6 pm check-in, 7 pm shotgun start
Haunted house
SPONSOR: Lincoln Jaycees
WHO: Public
DETAILS: http://lincolnjaycees.com/haunted-house/
WHERE: 325 S. Chicago St.
WHEN: 7-11 pm
"Joseph and the Amazing Technicolor Dreamcoat"
SPONSOR: Lincoln Christian Church
WHO: Public
DETAILS: Tickets available at the church office in early September.
(See article.)
WHERE: Lincoln Christian Church Fellowship Center, 204 N. McLean St.
WHEN: 7:30 pm
Saturday, Oct. 12
Lincoln Farmer's Market
SPONSOR: Lincoln Farmer's Market
WHO: Public
DETAILS: Market open Wednesdays 3-6 pm, Saturdays 7 am-noon, through Oct. 26
http://www.lincolnfarmersmarket.org/
WHERE: Scully Park, 316 S. Kickapoo
WHEN: 7 am-noon
Elkhart Farmer's Market
WHO: Public
WHERE: West side of Horsefeathers, Elkhart
WHEN: 7 am-noon
Farmers' Market
SPONSOR: Farmers' Market
WHO: Public
DETAILS: Market open Wednesday and Saturday mornings, 8-noon, through October.
WHERE: Latham Park
WHEN: 8 am-noon
Moving Forward 5K Run/Walk
SPONSOR: Abraham Lincoln Healthcare Foundation, Memorial Sportscare and business sponsors
WHO: Registered participants
DETAILS: http://www.almh.org/ALHFoundation/Moving-Forward-5K.aspx
(See article.) (See latest article.)
WHERE: Edward R. Madigan State Park
WHEN: 9 am
Electronics recycling collection
SPONSOR: Habitat for Humanity of Logan County
WHO: Public
DETAILS: http://www.habitatlogan.org/Events.html
WHERE: Habitat for Humanity warehouse, 915 Woodlawn Road
WHEN: 9 am-noon
Paper shredding and hard drive destruction
SPONSORS: Logan County Joint Solid Waste Agency and State Bank of Lincoln
WHO: Public
DETAILS: (See article.)
WHERE: Logan County Fairgrounds. Use Main Gate entrance, off Postville Drive.
WHEN: 9 am-noon
Glass recycling collection
SPONSORS: Logan County Joint Solid Waste Agency, Lincoln Woman's Club, Verallia Saint-Gobain Containers
WHO: Public
DETAILS: Last recycling collection for glass this year.
(See article.)
WHERE: Logan County Fairgrounds. Use Main Gate entrance, off Postville Drive.
WHEN: 9 am-noon
Lincoln Heat tryouts
SPONSOR: Lincoln Heat
WHO: Boys ages 9-14 (as of April 30, 2014)
DETAILS: Lincoln Heat travel baseball team tryouts. 9- and 10-year-olds, 9-10:30 am; 11- and 12-year-olds, 10:45-11:45 am; 13- and 14-year-olds, noon-1 pm.
WHERE: Chester-East Lincoln School
WHEN: 9 am-1 pm
(Tryouts continue Oct. 19.)
Logan County Democrats meet
SPONSOR: Logan County Democrats
WHO: Logan County Democrats
WHERE: Lincoln Public Library
WHEN: 10 am
Cruise-in at The Mill
SPONSOR: Route 66 Heritage Foundation of Logan County
WHO: Public
DETAILS: (See article.) (See another article.)
WHERE: 738 S. Washington
WHEN: 11 am-3 pm
Blood drive
SPONSOR: Lincoln Hampton Inn
WHO: Open to the public
DETAILS: Central Illinois Community Blood Center blood drive. For more information or to sign up toll-free, call 1-866-GIVE-BLD (1-866-448-3253), ext. 5158, or schedule an appointment online at www.bloodcenterimpact.org, Walk-ins are welcome. Bring donor ID or a photo ID.
WHERE: Lincoln Hampton Inn, 1019 N. Heitmann Drive
WHEN: 11 am-2 pm
New Holland Toys for Tots Cruise-In
SPONSOR: New Holland Firemen
WHO: Public
DETAILS: (See article.) (See latest article.)
WHERE: Downtown New Holland
WHEN: 1-4 pm
Tailgating for Logan County
SPONSOR: United Way of Logan County
WHO: Public
DETAILS: (See article.)
WHERE: Maple Club, 1458 Route 121
WHEN: 6-11 pm
LCHS fall play: "All I Really Need to Know I Learned in Kindergarten"
SPONSOR: Lincoln Community High School
WHO: Public
DETAILS: (See article.) (See latest article.)
WHERE: LCHS auditorium
WHEN: 7 pm
Haunted house
SPONSOR: Lincoln Jaycees
WHO: Public
DETAILS: http://lincolnjaycees.com/haunted-house/
WHERE: 325 S. Chicago St.
WHEN: 7-11 pm
"Joseph and the Amazing Technicolor Dreamcoat"
SPONSOR: Lincoln Christian Church
WHO: Public
DETAILS: Tickets available at the church office in early September.
(See article.)
WHERE: Lincoln Christian Church Fellowship Center, 204 N. McLean St.
WHEN: 7:30 pm
Sunday, Oct. 13
LCHS fall play: "All I Really Need to Know I Learned in Kindergarten"
SPONSOR: Lincoln Community High School
WHO: Public
DETAILS: (See article.) (See latest article.)
WHERE: LCHS auditorium
WHEN: 2 pm
"Joseph and the Amazing Technicolor Dreamcoat"
SPONSOR: Lincoln Christian Church
WHO: Public
DETAILS: Tickets available at the church office in early September.
(See article.)
WHERE: Lincoln Christian Church Fellowship Center, 204 N. McLean St.
WHEN: 2 pm
Rehearsal for community Christmas cantata
WHO: Singers
DETAILS: First rehearsal for "Lead Me Back to Bethlehem." Community cantata will be presented at St. John United Church of Christ and Immanuel Lutheran Church on Dec. 15.
(See article.)
WHERE: Immanuel Lutheran Church
Rehearsals will alternate between Immanuel and St. John UCC.
WHEN: 4 pm
Elkhart dinner lecture on South Africa
SPONSOR: Elkhart Historical Society
WHO: By reservation
DETAILS: (See article.)
WHERE: Wild Hare Café, 104 Gov. Oglesby St., Elkhart
WHEN: 4:30 pm
Monday, Oct. 14
Lincoln Low Vision Support Group meeting
SPONSOR: Lincoln Low Vision Support Group
DETAILS: Guest speaker will be from the Talking Book Center in East Peoria.
WHERE: Lincoln Christian Church, 204 N. McLean
Enter through the door off the parking lot, under the canopy.
WHEN: 1-2 pm
Ready Readers Story Time
SPONSOR: Lincoln Public Library Youth Services Department
WHO: Children ages 5-7
DETAILS: Mondays through Nov. 4. Preregistration is needed for accurate planning. Call 732-5732.
WHERE: Library Annex
WHEN: 3:30 pm
Tuesday, Oct. 15
Blood pressure screenings
SPONSOR: Abraham Lincoln Memorial Hospital
WHO: Public
DETAILS: Free blood pressure screenings are available every Tuesday.
WHERE: Wombacher Room at ALMH, 200 Stahlhut Drive
WHEN: 9 am-noon
Little Listener Lapsit Story Time
SPONSOR: Lincoln Public Library Youth Services Department
WHO: Children ages 6 months through 2 years old
DETAILS: Tuesdays and Wednesdays through Nov. 6. Preregistration is needed for accurate planning. Call 732-5732.
WHERE: Library Annex
WHEN: 10 am
Book Buddies Story Time
SPONSOR: Lincoln Public Library Youth Services Department
WHO: Children ages 3 and 4; also age 5 if not enrolled in kindergarten
DETAILS: Tuesdays and Wednesdays through Nov. 6. Preregistration is needed for accurate planning. Call 732-5732.
WHERE: Library Annex
WHEN: 10 am
First rehearsal for holiday concerts
SPONSOR: Lincoln Area Music Society Chorale
WHO: Musicians
DETAILS: Rehearsals continue each Tuesday evening until concerts.
(See article.)
WHERE: St. John United Church of Christ, Seventh and Maple
WHEN: 7 pm
Wednesday, Oct. 16
Farmers' Market
SPONSOR: Farmers' Market
WHO: Public
DETAILS: Market open Wednesday and Saturday mornings, 8-noon, through October.
WHERE: Latham Park
WHEN: 8 am-noon
Little Listener Lapsit Story Time
SPONSOR: Lincoln Public Library Youth Services Department
WHO: Children ages 6 months through 2 years old
DETAILS: Tuesdays and Wednesdays through Nov. 6. Preregistration is needed for accurate planning. Call 732-5732.
WHERE: Library Annex
WHEN: 10 am
Book Buddies Story Time
SPONSOR: Lincoln Public Library Youth Services Department
WHO: Children ages 3 and 4; also age 5 if not enrolled in kindergarten
DETAILS: Tuesdays and Wednesdays through Nov. 6. Preregistration is needed for accurate planning. Call 732-5732.
WHERE: Library Annex
WHEN: 10 am
Breastfeeding support group
SPONSOR: Abraham Lincoln Memorial Hospital
WHO: New mothers
DETAILS: Weekly breastfeeding support group. Participants will weigh their babies and have an opportunity to share stories and ask questions of a certified lactation consultant. Bring your lunch.
http://www.almh.org/About-ALMH/News/NewsDetail.aspx?id=306
WHERE: Steinfort B at ALMH, 200 Stahlhut Drive
WHEN: Noon-1:30 pm
Blood drive
SPONSOR: American Red Cross
WHO: Public
DETAILS: To make an appointment or for more information, call 1-800-RED CROSS (1-800-733-2767) or visit www.redcrossblood.org.
(See article.)
WHERE: Lincoln Sports Complex, 1400 Primm Road
WHEN: Noon-5 pm
Lincoln Farmer's Market
SPONSOR: Lincoln Farmer's Market
WHO: Public
DETAILS: Market open Wednesdays 3-6 pm, Saturdays 7 am-noon, through Oct. 26
http://www.lincolnfarmersmarket.org/
WHERE: Scully Park, 316 S. Kickapoo
WHEN: 3-6 pm
Thursday, Oct. 17
Mount Pulaski Rotary lunch
SPONSOR: Mount Pulaski Rotary Club
WHO: Approved, dues-paying members
DETAILS: Weekly lunch
(More information)
WHERE: Buff's Restaurant on the Mount Pulaski square
WHEN: Noon-1 pm
Caregivers Together
SPONSOR: The Christian Village
WHO: Caregivers and their families
DETAILS: (See introductory article from May.) (See publicity.)
WHERE: Christian Village Senior Apartments, 1500 Seventh St.
WHEN: 1:30-3 pm
Art and craft class
SPONSOR: Lincoln Public Library Youth Services Department
WHO: Youth ages 8-12
DETAILS: Classes on Thursdays through Nov. 7. Preregistration is required for accurate planning of materials. Register one week prior to each class.
WHERE: Library Annex
WHEN: 3:30-3:50 pm
Child ID Day
SPONSOR: Lincoln Public Library Youth Services Department
WHO: Children ages 3 through teens
DETAILS: The Lincoln Police Department will fingerprint young ones and provide a packet for identification in case a child becomes lost or missing.
WHERE: Library Annex Community Room
WHEN: 3:30-6:30 pm
Public forum on plan to reduce storm damage
SPONSOR: Logan County Emergency Management Agency
WHO: Public
DETAILS: Projects and activities to prevent injuries, deaths and property damage from major storms will be presented for public comment.
WHERE: Lincoln Park District, 1400 Primm Road
WHEN: 5-7 pm
LCHS College and Career Night
SPONSOR: Lincoln Community High School
WHO: Students and parents from LCHS, Greenview, Hartsburg-Emden, Illini Central, Olympia, Mount Pulaski and Williamsville.
DETAILS: Presentation on financial aid, 6-6:30 pm. College fair, 6-7:30 pm, with colleges, trade schools and armed services represented.
(See article.)
WHERE: LCHS, 1000 Primm Road
WHEN: 6-7:30 pm
Bereavement support group
SPONSOR: Memorial Home Services Hospice
WHO: Public
DETAILS: Meetings are geared for adults. "Our support group will provide an opportunity for people to be able to mutually share and support each other," said Bitsy Knepler, bereavement coordinator for Memorial Home Services Hospice. "Those who have suffered a loss can discuss their feelings, gain support from others in a similar situation and know that they are not alone." Meetings will be the third Thursday of each month at the same time and place.
WHERE: Steinfort Room at ALMH, 200 Stahlhut Drive in Lincoln
WHEN: 6-8 pm
Friday, Oct. 18
Haunted house
SPONSOR: Lincoln Jaycees
WHO: Public
DETAILS: http://lincolnjaycees.com/haunted-house/
WHERE: 325 S. Chicago St.
WHEN: 7-11 pm
"Joseph and the Amazing Technicolor Dreamcoat"
SPONSOR: Lincoln Christian Church
WHO: Public
DETAILS: Tickets available at the church office in early September.
(See article.)
WHERE: Lincoln Christian Church Fellowship Center, 204 N. McLean St.
WHEN: 7:30 pm
Saturday, Oct. 19
Lincoln Farmer's Market
SPONSOR: Lincoln Farmer's Market
WHO: Public
DETAILS: Market open Wednesdays 3-6 pm, Saturdays 7 am-noon, through Oct. 26
http://www.lincolnfarmersmarket.org/
WHERE: Scully Park, 316 S. Kickapoo
WHEN: 7 am-noon
Elkhart Farmer's Market
WHO: Public
WHERE: West side of Horsefeathers, Elkhart
WHEN: 7 am-noon
Farmers' Market
SPONSOR: Farmers' Market
WHO: Public
DETAILS: Market open Wednesday and Saturday mornings, 8-noon, through October.
WHERE: Latham Park
WHEN: 8 am-noon
Lincoln Heat tryouts
SPONSOR: Lincoln Heat
WHO: Boys ages 9-14 (as of April 30, 2014)
DETAILS: Lincoln Heat travel baseball team tryouts. 9- and 10-year-olds, 9-10:30 am; 11- and 12-year-olds, 10:45-11:45 am; 13- and 14-year-olds, noon-1 pm.
WHERE: Chester-East Lincoln School
WHEN: 9 am-1 pm
(Tryouts continued from Oct. 12.)
Germanfest
SPONSOR: St. John United Church of Christ and Oasis Senior Center
WHO: Public
DETAILS: (See article.) (See latest article.)
WHERE: St. John United Church of Christ, with parking lot at the corner of Eighth and Maple streets
WHEN: 11 am-3 pm
Haunted house
SPONSOR: Lincoln Jaycees
WHO: Public
DETAILS: http://lincolnjaycees.com/haunted-house/
WHERE: 325 S. Chicago St.
WHEN: Matinee, 5-6 pm; regular event 7-11 pm
3rd Saturday Meal
SPONSOR: Logan County Love
WHO: Open to everyone
DETAILS: Logan County Love will once again provide a free meal to anyone wishing to join. If you are interested, please stop by and introduce yourself as the group would love to see everyone in the community. Come hungry and leave fulfilled. If you are unable to drive but would like a meal, call the church, 217-732-6957, between 5 and 6 pm.
WHERE: St. John UCC, corner of Seventh and Maple
WHEN: 5-6:30 pm
"Joseph and the Amazing Technicolor Dreamcoat"
SPONSOR: Lincoln Christian Church
WHO: Public
DETAILS: Tickets available at the church office in early September.
(See article.)
WHERE: Lincoln Christian Church Fellowship Center, 204 N. McLean St.
WHEN: 7:30 pm
Monday, Oct. 21
Blood drive
SPONSOR: Abraham Lincoln Memorial Hospital
WHO: Open to the public
DETAILS: Central Illinois Community Blood Center blood drive. For more information or to sign up toll-free, call 1-866-GIVE-BLD (1-866-448-3253), ext. 5158, or schedule an appointment online at www.bloodcenterimpact.org, Walk-ins are welcome. Bring donor ID or a photo ID.
WHERE: Abraham Lincoln Memorial Hospital, 200 Stahlhut Drive
WHEN: 11 am-4 pm
Ready Readers Story Time
SPONSOR: Lincoln Public Library Youth Services Department
WHO: Children ages 5-7
DETAILS: Mondays through Nov. 4. Preregistration is needed for accurate planning. Call 732-5732.
WHERE: Library Annex
WHEN: 3:30 pm
Entrepreneurial presentation
SPONSOR: Young Professionals Network of Logan County
WHO: Individuals in their 20s and 30s who work in Lincoln and Logan County
DETAILS: (See article.)
WHERE: Lincoln Community High School auditorium
WHEN: 6 pm
Tuesday, Oct. 22
Blood pressure screenings
SPONSOR: Abraham Lincoln Memorial Hospital
WHO: Public
DETAILS: Free blood pressure screenings are available every Tuesday.
WHERE: Wombacher Room at ALMH, 200 Stahlhut Drive
WHEN: 9 am-noon
Little Listener Lapsit Story Time
SPONSOR: Lincoln Public Library Youth Services Department
WHO: Children ages 6 months through 2 years old
DETAILS: Tuesdays and Wednesdays through Nov. 6. Preregistration is needed for accurate planning. Call 732-5732.
WHERE: Library Annex
WHEN: 10 am
Book Buddies Story Time
SPONSOR: Lincoln Public Library Youth Services Department
WHO: Children ages 3 and 4; also age 5 if not enrolled in kindergarten
DETAILS: Tuesdays and Wednesdays through Nov. 6. Preregistration is needed for accurate planning. Call 732-5732.
WHERE: Library Annex
WHEN: 10 am
Wednesday, Oct. 23
Farmers' Market
SPONSOR: Farmers' Market
WHO: Public
DETAILS: Market open Wednesday and Saturday mornings, 8-noon, through October.
WHERE: Latham Park
WHEN: 8 am-noon
Little Listener Lapsit Story Time
SPONSOR: Lincoln Public Library Youth Services Department
WHO: Children ages 6 months through 2 years old
DETAILS: Tuesdays and Wednesdays through Nov. 6. Preregistration is needed for accurate planning. Call 732-5732.
WHERE: Library Annex
WHEN: 10 am
Book Buddies Story Time
SPONSOR: Lincoln Public Library Youth Services Department
WHO: Children ages 3 and 4; also age 5 if not enrolled in kindergarten
DETAILS: Tuesdays and Wednesdays through Nov. 6. Preregistration is needed for accurate planning. Call 732-5732.
WHERE: Library Annex
WHEN: 10 am
Breastfeeding support group
SPONSOR: Abraham Lincoln Memorial Hospital
WHO: New mothers
DETAILS: Weekly breastfeeding support group. Participants will weigh their babies and have an opportunity to share stories and ask questions of a certified lactation consultant. Bring your lunch.
http://www.almh.org/About-ALMH/News/NewsDetail.aspx?id=306
WHERE: Steinfort B at ALMH, 200 Stahlhut Drive
WHEN: Noon-1:30 pm
Lincoln Farmer's Market
SPONSOR: Lincoln Farmer's Market
WHO: Public
DETAILS: Market open Wednesdays 3-6 pm, Saturdays 7 am-noon, through Oct. 26
http://www.lincolnfarmersmarket.org/
WHERE: Scully Park, 316 S. Kickapoo
WHEN: 3-6 pm
Thursday, Oct. 24
Mount Pulaski Rotary lunch
SPONSOR: Mount Pulaski Rotary Club
WHO: Approved, dues-paying members
DETAILS: Weekly lunch
(More information)
WHERE: Buff's Restaurant on the Mount Pulaski square
WHEN: Noon-1 pm
Art and craft class
SPONSOR: Lincoln Public Library Youth Services Department
WHO: Youth ages 8-12
DETAILS: Classes on Thursdays through Nov. 7. Preregistration is required for accurate planning of materials. Register one week prior to each class.
WHERE: Library Annex
WHEN: 3:30-3:50 pm
Friday, Oct. 25
Behind the Scenes program: St. Louis Zoo
SPONSOR: Atlanta Public Library
WHO: Public, with tickets
DETAILS: (See article.)
WHERE: Atlanta Country Club, 901 NE First St., Atlanta
WHEN: 6:30 pm reception, 7 pm program
Haunted house
SPONSOR: Lincoln Jaycees
WHO: Public
DETAILS: http://lincolnjaycees.com/haunted-house/
WHERE: 325 S. Chicago St.
WHEN: 7-11 pm
Saturday, Oct. 26
Lincoln Farmer's Market
SPONSOR: Lincoln Farmer's Market
WHO: Public
DETAILS: Market open Wednesdays 3-6 pm, Saturdays 7 am-noon, through Oct. 26
http://www.lincolnfarmersmarket.org/
WHERE: Scully Park, 316 S. Kickapoo
WHEN: 7 am-noon
Farmers' Market
SPONSOR: Farmers' Market
WHO: Public
DETAILS: Market open Wednesday and Saturday mornings, 8-noon, through October.
WHERE: Latham Park
WHEN: 8 am-noon
Harvest of Talents
SPONSOR: Harvest of Talents for World Hunger
WHO: Public
DETAILS: 30th anniversary event. Proceeds to International Disaster Emergency Service.
(See article.) (See article on rolls.)
WHERE: Lincoln Christian Church, 204 N. McLean
WHEN: Events begin at 7 am. Auction at 2 pm.
New Holland Fall Festival
SPONSOR: Village of New Holland with New Holland Boy Scouts, New Holland Fire Department, Slackers and New Holland-Middletown Community Supports Education
WHO: Public
DETAILS: Breakfast served by NH-M Boy Scouts. Lunch served by New Holland Fire Department. Garage and vendor sales, bake sale, carnival rides and games, face painting, costume contest, bingo, pumpkin pie eating contest, kiddie pedal pull, quarter auction, and Slackers is hosting a chili cook-off at their business.
WHERE: New Holland Community Center
WHEN: 7 am-5 pm
Rib-eye sandwich sale
SPONSOR: Logan County Democrats
WHO: Public
DETAILS: Fundraiser
WHERE: Lincoln IGA
WHEN: 10 am-2 pm
Trick or Treat with the Mayor
SPONSORS: City of Lincoln, Main Street Lincoln, Lincoln Park District
WHO: Children
DETAILS: Trick-or-treating downtown
(See article.)
WHERE: Register at Latham Park. Trick-or-treat downtown.
WHEN: Register at 3 pm. Trick-or-treating begins at 3:30 pm.
Trunk or Treat
SPONSORS: City of Lincoln, Main Street Lincoln, Lincoln Park District
WHO: Children
DETAILS: Treats from decorated vehicles parked downtown.
(See article.)
WHERE: Downtown on Pulaski Street, south of courthouse
WHEN: 4:30-6 pm
VFW catfish dinner
SPONSOR: Veterans of Foreign Wars Post 1756
WHO: Public
DETAILS: Catfish dinner includes coleslaw or baked beans. a slice of rye bread and onion slices, dessert, and tea or lemonade. 50/50 drawing. Prize basket raffle. Winners of the prize basket raffles need NOT be present.
WHERE: 915 Fifth St.
WHEN: 4:30-7 pm
Haunted house
SPONSOR: Lincoln Jaycees
WHO: Public
DETAILS: http://lincolnjaycees.com/haunted-house/
WHERE: 325 S. Chicago St.
WHEN: Matinee, 5-6 pm; regular event 7-11 pm
Sunday, Oct. 27
Harvest of Talents service
SPONSOR: Harvest of Talents for World Hunger
WHO: Public
DETAILS: (See article.)
WHERE: Earl C Hargrove Chapel, Lincoln Christian University
WHEN: 10 am
Prenatal class
SPONSOR: Abraham Lincoln Memorial Hospital
WHO: Expectant families
DETAILS: The prenatal classes offered at ALMH are free to expectant parents. Mothers and their partners will learn about when to come to the hospital, what to expect during labor and delivery, pain relief options, breathing techniques and more. The Lamaze approach is taught as a basis to increase each mother's confidence in her ability to give birth and to learn simple coping strategies for labor, including focused breathing, massage techniques, positioning and relaxation. The classes are taught by an experienced member of the ALMH obstetrics team and include in-depth explanations of birthing options, including cesarean delivery, induction of labor and medications. Partners will also learn about how to support mothers on the big day. Attending the class together and gathering information often helps lessen anxiety for the much-anticipated birth of a child. The class will also include a tour of the ALMH Family Maternity Suites. Please register for the class by calling the Family Maternity Suites anytime at 217-732-2161, ext. 55231. The class is offered again Dec. 8.
WHERE: ALMH, 200 Stahlhut Drive, Lincoln, Steinfort A
WHEN: 1-5 pm
Haunted house
SPONSOR: Lincoln Jaycees
WHO: Public
DETAILS: http://lincolnjaycees.com/haunted-house/
WHERE: 325 S. Chicago St.
WHEN: 7-10 pm
Monday, Oct. 28
Ready Readers Story Time
SPONSOR: Lincoln Public Library Youth Services Department
WHO: Children ages 5-7
DETAILS: Mondays through Nov. 4. Preregistration is needed for accurate planning. Call 732-5732.
WHERE: Library Annex
WHEN: 3:30 pm
Tuesday, Oct. 29
Blood pressure screenings
SPONSOR: Abraham Lincoln Memorial Hospital
WHO: Public
DETAILS: Free blood pressure screenings are available every Tuesday.
WHERE: Wombacher Room at ALMH, 200 Stahlhut Drive
WHEN: 9 am-noon
Little Listener Lapsit Story Time
SPONSOR: Lincoln Public Library Youth Services Department
WHO: Children ages 6 months through 2 years old
DETAILS: Tuesdays and Wednesdays through Nov. 6. Preregistration is needed for accurate planning. Call 732-5732.
WHERE: Library Annex
WHEN: 10 am
Book Buddies Story Time
SPONSOR: Lincoln Public Library Youth Services Department
WHO: Children ages 3 and 4; also age 5 if not enrolled in kindergarten
DETAILS: Tuesdays and Wednesdays through Nov. 6. Preregistration is needed for accurate planning. Call 732-5732.
WHERE: Library Annex
WHEN: 10 am
Public meeting on Logan County trail plan
HOSTS: Logan County Regional Planning Commission and Healthy Communities Partnership
WHO: Public
DETAILS: (See article.)
WHERE: Steinfort Conference Center, Abraham Lincoln Memorial Hospital
WHEN: 6 pm
Wednesday, Oct. 30
Farmers' Market
SPONSOR: Farmers' Market
WHO: Public
DETAILS: Market open Wednesday and Saturday mornings, 8-noon, through October.
WHERE: Latham Park
WHEN: 8 am-noon
Little Listener Lapsit Story Time
SPONSOR: Lincoln Public Library Youth Services Department
WHO: Children ages 6 months through 2 years old
DETAILS: Tuesdays and Wednesdays through Nov. 6. Preregistration is needed for accurate planning. Call 732-5732.
WHERE: Library Annex
WHEN: 10 am
Book Buddies Story Time
SPONSOR: Lincoln Public Library Youth Services Department
WHO: Children ages 3 and 4; also age 5 if not enrolled in kindergarten
DETAILS: Tuesdays and Wednesdays through Nov. 6. Preregistration is needed for accurate planning. Call 732-5732.
WHERE: Library Annex
WHEN: 10 am
Square Talk
SPONSOR: Main Street Lincoln and Jacy Group
WHO: Business owners
DETAILS: Topic: "Effective Planning" (1-page planner)
(See article.)
WHERE: Main Street Lincoln office, 101˝ S. Kickapoo St., Suite 13
WHEN: 11:30 am-1 pm
Breastfeeding support group
SPONSOR: Abraham Lincoln Memorial Hospital
WHO: New mothers
DETAILS: Weekly breastfeeding support group. Participants will weigh their babies and have an opportunity to share stories and ask questions of a certified lactation consultant. Bring your lunch.
http://www.almh.org/About-ALMH/News/NewsDetail.aspx?id=306
WHERE: Steinfort B at ALMH, 200 Stahlhut Drive
WHEN: Noon-1:30 pm
Trick-or-treating at Symphony
SPONSOR: Symphony of Lincoln
WHO: Children
DETAILS: Trick-or-treating
(See article.)
WHERE: 2202 N. Kickapoo.
WHEN: 5-6:30 pm
Halloween FunFest
SPONSOR: Lincoln Park District
WHO: Children
DETAILS: Games, prizes, candy
(See article.)
WHERE: Lincoln Park District indoor tennis courts, 1400 Primm Road
WHEN: 6:30-8:30 pm
Haunted house
SPONSOR: Lincoln Jaycees
WHO: Public
DETAILS: http://lincolnjaycees.com/haunted-house/
WHERE: 325 S. Chicago St.
WHEN: 7-10 pm
Thursday, Oct. 31
Mount Pulaski Rotary lunch
SPONSOR: Mount Pulaski Rotary Club
WHO: Approved, dues-paying members
DETAILS: Weekly lunch
(More information)
WHERE: Buff's Restaurant on the Mount Pulaski square
WHEN: Noon-1 pm
Art and craft class
SPONSOR: Lincoln Public Library Youth Services Department
WHO: Youth ages 8-12
DETAILS: Classes on Thursdays through Nov. 7. Preregistration is required for accurate planning of materials. Register one week prior to each class.
WHERE: Library Annex
WHEN: 3:30-3:50 pm
Haunted house
SPONSOR: Lincoln Jaycees
WHO: Public
DETAILS: http://lincolnjaycees.com/haunted-house/
WHERE: 325 S. Chicago St.
WHEN: 7-10 pm