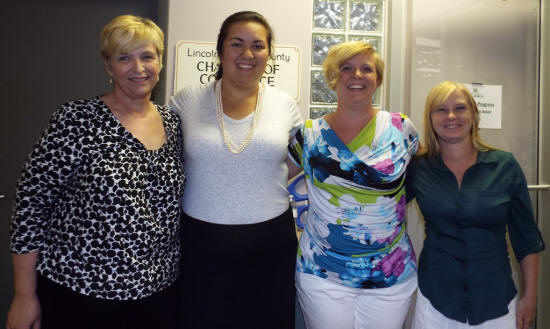 On Wednesday evening the Logan County Alliance hosted an open house celebrating the arrival of their new President/CEO and new Event Coordinator.

Cathy Wilhite has been on the job several weeks now. She serves as the President/CEO of the LCA and the Lincoln/Logan County Chamber of Commerce Director.

Kari Adams was hired a few weeks ago as the Event Coordinator for the LCA. She has already jumped in with both feet working on the upcoming Lincoln Arts in the Park festival to be held the end of this month, and the Lincoln Balloon Festival to be held the end of August.

Several folks stopped by during the two-hour open house to welcome Wilhite and Adams. Before the evening ended the complete staff gathered for a photo. Left to right are Wilhite, Logan County Tourism Director Maggie McMurtrey, Adams, and LCA Office Manager Tina Simpson.
Photo by Nila Smith [Click on pictures for larger images]