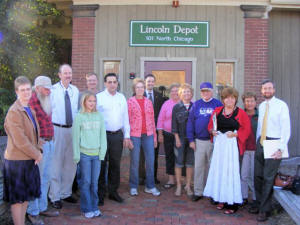 Oct. 16 will be a hallmark day.
Members of the Abraham Lincoln Bicentennial Commission of Lincoln, Illinois gathered on Thursday to finalize plans for the re-creation of Abe Lincoln's historic speech on the steps of the Logan County Courthouse.
The re-creation of the famous Logan County speech will be on the west side of the courthouse at 1 p.m. on Oct 16.
At the historic speech150 years ago, Lincoln enthralled 5,000 area residents in his run for the U.S. Senate.
Everyone is invited to attend, and if you have them, you are encouraged to wear period clothes to the event. If you do not, your presence is still appreciated. Don't miss this once-in-a-lifetime event.
Photograph by Mike Fak (Click on either picture or poster to enlarge image)