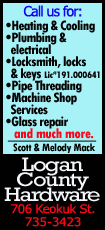 Year-round, on evenings Monday through Thursday, and some day hours, you can find these community-minded officials spending hours in weekly meetings. Plus, they will spend considerable additional time researching on-site as needed, making phone calls, writing letters and grants, acting as representatives at events, listening to what their constituents want and need, attending conventions and government leadership seminars, and much more — all for the purpose of gathering information to share with their cohorts. They make policies and decisions all year long, and they try to make the best possible decisions for the good of the most people.

Below is a summary list of the top issues discussed by the Lincoln City Council and the Logan County Board during the year 2013.

Several topics for the year proved repetitive; some were complex; others were costly, such as the Oglesby Avenue bridge, city streets and sewer plans, a new position in the county's transportation program, and other new county positions. Whether at City Hall or for the county, these were difficult decisions that were researched and discussed aggressively. In some cases, a decision was changed several times over as new information became available.

On certain nights, sitting in on a city or county meeting would have proved better entertainment than sitting at home watching the best TV show of the week. In any of these matters of consequence, you would have witnessed fresh thinking, alternative ideas, different perspective, solid leadership, wisdom to search out more information if needed and best of all, everyone thinking for themselves.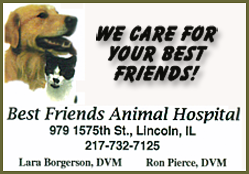 Lincoln and Logan County leaders continued taking steps to further economic growth. Four long-range plans have been in process this year — Lincoln's downtown revitalization, Lincoln's TIF district, the Logan County CEDS and a countywide Hazards Mitigation Plan. Each of these plans is in a different phase, and they are either well underway or completed. Each plan better positions the community to receive funding for developments that would bring economic strength in the future.
Steering committee addresses questions on downtown Lincoln revitalization
(Links to a three-part series giving more details of the plan can be found at the end of this article.)
Steering committee offers recommendations for 2 downtown projects
City votes to establish a downtown TIF district
Downtown TIF district a step closer for the city of Lincoln
Logan County Board to support 2013 regional CEDS
Discussion opens to implement Logan County CEDS
County Briefs: CEDS passes, employee health insurance, surplus auction, demolition request declined
County learns more on regional CEDS participation
New Logan County Hazards Mitigation Plan heads into approval processes
A new historic district designation that adds strength to the revitalization plan is in the works for downtown Lincoln also.
Downtown Lincoln redevelopment and revitalization go together with historic preservation
Locally certified downtown historic district offers greater benefits
New Lincoln Historic District approved for downtown
(Property owners' approval)
It is not unusual in a community that unsightly, problem properties are a complaint. Most commonly, these are properties that have been rental properties that have gotten too run-down and then been abandoned. The owners typically do not live in the community and either cannot afford or do not want to deal with the cost of demolition. The city has found a way to expedite this process, and now by budget and other means, is taking action on the worst properties.
City marks 2 properties for fast-track demolition
House on Decatur Street to be city fast-track demolition
City considers special use permits for drive-thru businesses and changes in fines and fees
Battle with Gordon McCann nears a final and positive end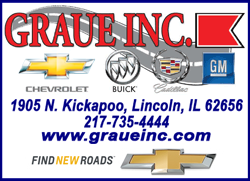 Signs of growth
Lincoln sees housing expansion
Brinshore breaks ground for Plowfied Square
Lincoln City Council clears the way for ALMH subdivision
County: Paulus remembered; new phone system; raises; dog & cat sale; and electric substation approved
The county's new emergency dispatch service expansion, to work in conjunction with state agencies, aids both the local economy and helps the state.
Logan County hosts new resource location service for emergency managers
EMCOM, Part 1
Tourism picked up a little help too.
3 Logan County groups receive Looking for Lincoln Heritage Coalition grants
After a considerable number of hours in review processes, the county approved use of land to mine limestone. Neighboring farmers concerned about loss of water appealed, putting the matter into the court's hands.
County eyes conditional use for extraction and fence regulations
Appeal in legal limbo on rezoning to allow limestone mining
In a chain of steps, tourism dollars raised in the city of Lincoln moved from county to city oversight.
City MAY claim taxes that fund county tourism bureau
Tourism bureau continues planning for the future
City debates what to do with tourism bureau
Aldermen asked to review list of tourism expectations
City approves taking over hotel-motel tax
Tourism bureau directors Churchill, Lee and Post step aside as work begins to meet Lincoln's expectations
Tourism appoints Leslie Hoefle as interim director
County board to appoint its last tourism bureau board tonight
Tourism bureau now under city governance
Tourism bureau is alive and well in Logan County
Tourism bureau provides update on recent developments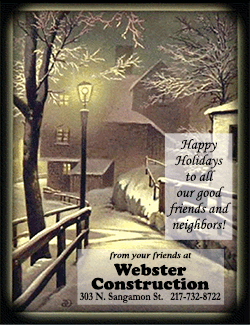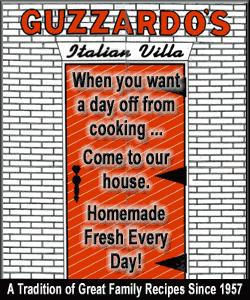 Every year, local governments deal with losses in revenues and increases in expenditures. Increases in expenditures may come through unfunded state mandates or may result from something such as the state shifting more financial burden to local governments. These are often seen in reductions to the departments that get subsidies, such as the highway department, sheriff, courthouse or other.
One of the county's most debated issues this year was related to the new public transportation program. The state passed a requirement for a full-time oversight position. Funding was not offered at first, but this changed later to mostly funded.
State adds oversight requirement to public transportation program
Board mulls Logan County's public transportation over PCOM officer requirement
Logan County to continue rural public transportation service
County continues to sort out public transportation oversight position
Governments also see the same economy-related increases as private citizens when it comes to paying for energy, fuel or insurance costs.
Health insurance to cost county $32,000 more, even with switch to Blue Cross
This year the county had to borrow money for an uncommon costly matter, a large court case. With the state doing away with capital punishment, so went the state's resource of the capital litigation fund that commonly was made available for such situations.
The case is now over to a successful conclusion.
Jury swift: HARRIS GUILTY
5 Gee family murders, attempted murder, home invasion and armed robbery
Madigan and Wright comment on Harris convictions
Much to the credit of the sheriff's department under Steve Nichols and the state's attorney's office under Jonathan Wright, who by working together were able to avert one of the two trials by doing extensive additional research, costs came up less than the anticipated. Yet, it still could take the county the next 20 years to pay for all the related costs, which came to around $800,000.
Logan County Board praises Sheriff Nichols and his office
Logan County Board congratulates Jonathan Wright
In City Hall chambers, hours were spent determining how to cover mounting fire and police pension funds — a statewide challenge to municipalities — and still keep the city on track and growing.
Council heats up over kilowatts and therms
Utility tax discussions — Part 4
Mayor provides deciding vote; utility tax passes
Considerable time was also spent in city chambers on how to manage aging infrastructure: streets, bridges, sewers and storm drainage. It was a year of tough decisions, but decided they were, and with consideration for future councils.
City approves start of ambitious street project plans
Work continues on Pulaski Street project — album
Losses of revenues are often related to the economy and are seen in decreased sales, property, income and other tax returns. Everyone feels the pinch now and again, even the mail and school systems.
Mount Pulaski post office will remain open, but ...
Logan County to join McLean education region; health department to make cuts; bike trails plan ready for approval
But, with an eye to the unknown future and the expectation that things could get tighter, local communities and the county continued stretching to cut costs and to create more revenues. The Lincoln City Council and Logan County Board each passed balanced budgets.
County sets budget for display
Logan County Board prepared to set next fiscal year budget and other financial matters
Transitions
City Briefs: City administrator hired; revenue and sewer collections up; police radios to be purchased; promotion in fire department
Carmitchel appointed to Lincoln City Council
Bruce Carmitchel to finish Ward 4 Alderman Buzz Busby's term
New candidate for Lincoln Ward 1
Sale of donated property, appointment to joint review, new alderman highlight Monday night voting session
Wilmert tenders resignation as Ward 1 alderman
Mayor Keith Snyder: Looking back, looking forward
Part 3: What lies ahead?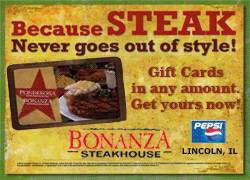 Improving quality of life
City hears annual update on Lincoln FC Soccer Complex
Community Night at Postville Park brings in crowds and rain clouds
Council to vote on making city parks smoke-free
City of Lincoln dedicates 1st smoke-free park
Bicycle trail plans top discussions by county planning commission

County updates on priorities survey and bike trail plan

Into the future

Our leaders not only consider today, but also strongly looked at what would be handed to future councils or boards with their action or inaction. They are looking to the needs of the citizenship in the next generation for five, 10, 25 years and more from now.

Logan County trailway effort continues; public invited to planning meeting

High-speed rail public meeting in Lincoln on Tuesday

If someone tries to tell you that there is nothing going on anywhere and no one is doing anything about it, you can tell them that's not how it is in Lincoln and Logan County. There has been housing development, and a lot of planning has been completed and ready to put into action that would bring more building and renovations, business expansions, and infrastructure into Lincoln and throughout Logan County. Your leaders are putting in the time and doing their homework for your future, your kids and your kids' kids.

And, if TV is boring you, you ought to consider stopping in at a city or county meeting sometime. It gets interesting pretty often, and they are discussing the use of your tax dollars and the future of where you live.

[LDN]